honey badger
This week's special celebrity guest is Gay Robot! A MIT scientist created a robot that came out gay when a wine cooler was accidentally spilled onto Gay Robot's circuits.
1. LSU Tigers
Hopefully the Honey Badger doesn't give a shit about where he gets naked. Yummy!
2. Ryan Phillippe
His eyes shimmer like the Caribbean Sea and his hair is the color of the Grand Canyon filled with lispy whispers.
3. Alabama Crimson Tide
I feel obligated to put them here even though they don't allow gays to enter the state. Shame on you, Alabama!
4. Brady Quinn and Jimmy Clausen
These two were the only ones who ever used the glory hole in the Notre Dame locker room. They hold a special place in my heart – and also in my butt cheeks.
5. Oklahoma Sooners
Just the name BIG Game Bob gets me all moist in the circuits! Mmmmmm!
6. Wisconsin Badgers
If all of that Wisconsin cheese is dick cheese, then consider me died and gone to heaven!
7. Cal Bears
Close to San Fran? Bears? Everything about this place is perfect! Yes, please!
8. Challenger XL 3000 Buttplug
This guy has never left my side and never will until they create a bigger model and I upgrade.
9. Stephen Garcia
I enjoy trolling Craigslist for hot guys secretly needing a "release" and this shocked and flabbergasted bro is at the top of that list. Let Gay Robot help you out, Stephen.
10. Hawaii Rainbow Warriors
Self-explanatory.
Last week we debuted the inaugural Celebrity Power Rankings as seen through the eyes of Ric Flair (and sponsored by Pemmican Beef Jerky). This week's rankings are selected by the one-and-only Samuel L. Jackson!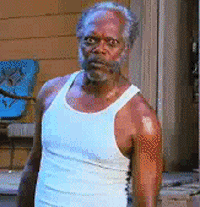 1. Alabama Crimson Tide
This exclusively African-American team is going places!
2. LSU Tigers
Louisiana State gets my nod for the number two slot solely because they have an actual Honey Badger on the team.
3. Atlanta Falcons
I'm seriously hoping to see the Dirty Birds rise up this week against Wisconsin and their pretty boy QB, Aaron Rodgers.
4. Ohio State Buckeyes
These Buckeyes sure are a physical bunch. Their offense led by QB Todd Boeckman can put you to sleep at times, but they get the job done in the end.
http://www.youtube.com/watch?v=hNhnCD0EZtE
5. Clemson Tigers
I'm sticking with a mostly deep south theme here, and it continues with the Clemson Tigers, clad in orange, which is the Genghis Khan of colors: it is compatible with nothing and it savagely rapes then murders anything it is paired with.
6. Anaconda
I wasn't in this movie but I felt that I should have been. It was the inspiration behind Snakes on a Plane as well as Black Snake Moan.
7.  Georgia Bulldogs
They once paid me to lead the team through a gauntlet of white band members so they will forever hold a perpetual space in my top ten.
8. West Virginia Mountaineers
Because they love saying FUCK as much as I do and I sure fucking love saying motherfucking fuck.
9. Leftist America
Without them we wouldn't even have rankings, or American football, or air to breathe.
10.  Oklahoma Sooners
Coach Stoops has that SMUG ASS LOOK down to a tee. Reminds me of Marsellus Wallace.
I refuse to list Boise State in my rankings because they do not have any black players. Are there even any black people in the state of Idaho, the Ireland of America? Those racist motherfuckers.