CELEBRITY POWER RANKINGS, WEEK 9
The Celebrity Power Rankings are back after a week-long hiatus and we take you all the way out to Hollywood to get our celebrity guest rankings. Take it away, Mr. Zach Braff.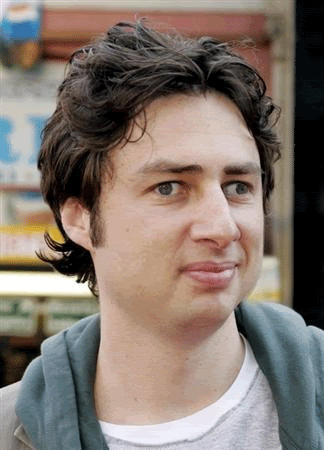 Hello there, fans. I want to thank Hail to Thee for bestowing this great honor upon me and I hope I don't let any of my fans down! I'm an avid college football watcher so I'm sure my rankings won't disappoint! Just post a comment if you've got any qualms with my choices!
1. USC
These Trojans are a nasty bunch led by a dear friend of mine, Pete Carroll.
2. LSU
The Tigers own wins over five ranked teams (at the time played) already this season. This team is scalding heauxt right now!
3. ALABAMA
I really like the Crimson Tide's chances of winning the Super Bowl if they can get past LSU in two weeks.
4. OREGON
HUGE fan of Cliff Harris. He'll be enjoying a scooter soon, just like me!
5. GARDEN STATE
My character in this movie portrays a retarded quarterback so I feel that I should rank it.
6. BOSTON COLLEGE
What a beautiful city.
7. CLEMSON
I, too, am a supporter of Michelle Obama.
8. OHIO STATE
Always a mainstay here in the top 10.
9. DONALD FAISON
My best friend and former Scrubs co-worker sure looks like he could play college football, doesn't he?
10. WEST VIRGINIA
My 10th spot is always reserved for an honorary team and this time around it is the West Virginia Mountaineers. Good luck to the Mountaineers after being adopted by the Big 12.